Julie Harris
Partner
Solicitor
Solicitor Advocate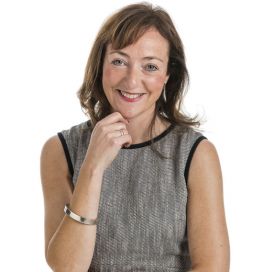 Julie heads up our market-leading, award-winning personal injury team. She has specialised in pursuing personal injury cases since 1995 and was drawn to this area of the law as it is complex, interesting work and involves the challenge of acting for an individual taking on a large institution, usually an employer or an insurance company. As well as directing the team, Julie runs many litigated cases in both The Court of Session and The All-Scotland Sheriff Personal Injury Court.
Julie enjoys participating in training of other solicitors and external referrers such as the firm's trade union clients. She is also a mentor on The Law Society of Scotland's Lawscot Foundation Programme, which supports academically talented students from disadvantaged backgrounds.
Representative Experience
Julie has pursued many high value complex cases involving employers' liability, road accidents, clinical negligence and historical abuse. She is regularly referred personal injury cases by other less specialist solicitors around the country via the firm's Injury Compensation Alliance.
She has run countless personal injury Court actions and has regularly appeared in The All-Scotland Sheriff Personal Injury Court. As Solicitor Advocate, Julie is able to appear in Scotland's highest Civil Courts.
Education
Julie has an LLB Honours Degree and Diploma in Legal Practice from The University of Strathclyde and is a Notary Public.
Admissions, Memberships and Accreditations
She was admitted by The Law Society in 1995 and is accredited by The Association of Personal Injury Lawyers as a Senior Litigator and by The Law Society of Scotland as a Personal Injury specialist.
Outside Work
Outside of work, Julie loves reading, running, good food and wine, occasional sea swims and spending time with her children and big, extended family. Her favourite film is The Graduate – "the closing scene on the bus never fails to make me smile".
Articles by Julie Harris
- Who do you claim against if you are attacked by a dog?
- Redress Scotland: redress for child abuse survivors
- What should your employer be doing to allow safe return to work?
- New legislation should improve access to justice in Scotland
- Redress for child abuse survivors
- Working at home accidents - who is liable?
- Nightclub liable to pay damages for failing to install anti-slip flooring
- Need legal advice about an injury? Attend our free Personal Injury virtual clinic
- E-scooter users advised to take care to avoid accidents and injuries
- Why NOW is the right time to speak to us about an injury claim
- Can a personal injury claim be made against a company that has stopped trading?
- What is Res Ipsa Loquitur?
- Back to basics: the fundamentals of personal injury law
- Allan McDougall Solicitors voice grave concerns over access to justice
- Personal injury cases for other law firms' clients
- Am I too late to claim compensation for my injury?
- Beware early offers for road traffic accident compensation claims
- Passenger awarded compensation after breaking ankle on bus
- Who's to blame when the party's over?
- Limits to compensation for psychiatric injury after an accident
- The importance of risk assessment in the workplace
- Need legal advice about an injury? Attend our free Personal Injury virtual clinic
- Accidents abroad compensation claims
- Noise-Induced Deafness Claims
- Working at home accidents - who is liable?
- Happy Birthday to the All-Scotland Personal Injury Court!
- Mentoring with the Lawscot Foundation
- How has the Limitation (Childhood Abuse) (Scotland) Act changed the landscape for abuse survivors?
- Festivalgoers urged to stay safe this summer
- You've had a cycling accident - what next?
- Putting a figure on personal injury claims
- A triple pronged attack on cycling accidents
- A compensation offer is for life, not just for Christmas