Community contribution projects
Supporting young people to learn and achieve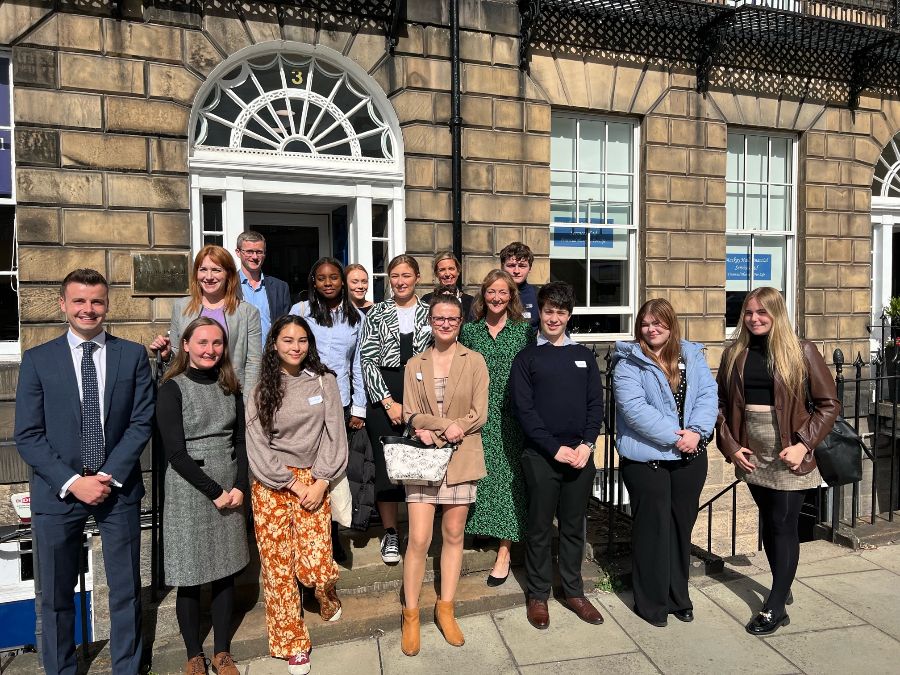 Allan McDougall Solicitors' community contribution programme centres around supporting young people to learn and achieve. Our main current projects are sponsorship partnerships with:
Lawscot Foundation, to support aspiring lawyers from less-advantaged backgrounds to pursue a career in law.
Holy Rood High School, to enhance the experiences which this state school is able to offer its pupils and to enrich their life prospects.
In addition, in late 2022 we completed a three-year partnership with Scottish Disability Sport, which helps people with a physical, sensory or learning disability to participate in a wide range of sports and physical recreation.
Julie Harris, our partner who leads on our community contribution projects, commented: "Engaging with causes such as the Lawscot Foundation, Scottish Disability Sport, and a local school – Holy Rood High School – is inspiring and motivating. In very different ways all three do amazing work in supporting young people in being the best they can be.
As lawyers with hectic schedules it can seem too difficult to find time to work with and support community initiatives but in sharing your knowledge and experience, so much can be gained from a personal and professional perspective. I would highly recommend such involvement to any firm."
Lawscot Foundation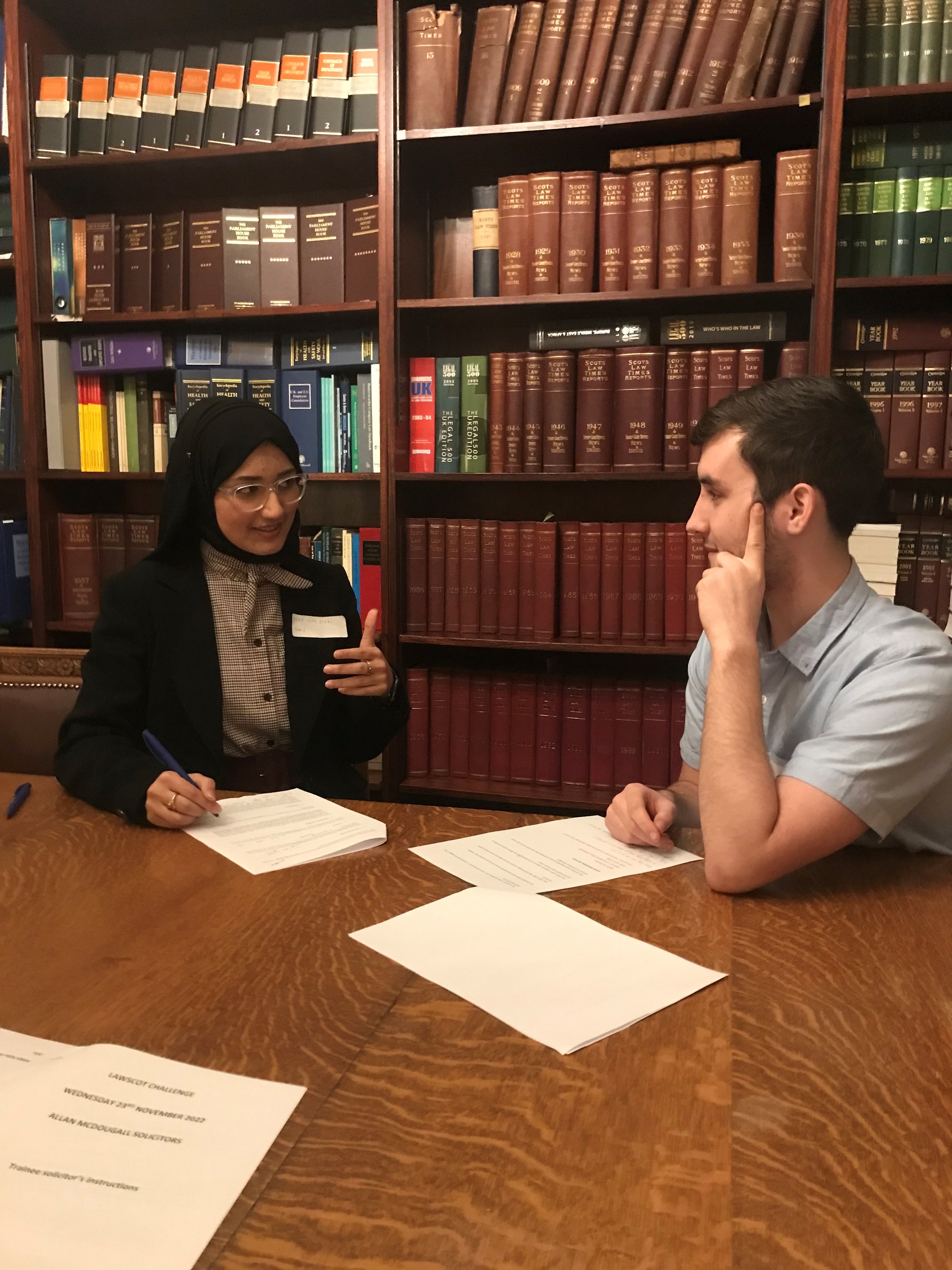 Our sponsorship of Lawscot Foundation provides a bursary for a Scots law LLB student. In addition, we offer in-kind support through mentoring and work experience opportunities. We have also participated in various additional activities to support the organisation and all students sponsored by the programme, including:
Hosting a welcome event in our office for Lawscot Foundation's 2022 intake of students.
Taking part in the Lawscot Challenge, which was an opportunity for both the firm and the students to engage with each other, and it provided the students with an opportunity to be given an insight into what it is like to be a trainee solicitor at Allan McDougall Solicitors.
Participating in the Law Society of Scotland's Traineeship Application Masterclass during its Virtual Diploma Fair and Careers event. We shared tips with prospective Diploma students on how to make a successful traineeship application, as well as how to stand out as a candidate throughout the process.
Darren Kerr, Outreach and Engagement Manager, The Law Society of Scotland, said: "Allan McDougall Solicitors have demonstrated their commitment to widening access to the legal profession in Scotland by becoming a valuable sponsor of the Lawscot Foundation. The commitment they have shown so far has been brilliant. First of course is the financial support they offer. Their annual financial contribution means we can continue supporting inspiring students from less-advantaged backgrounds, but they have also got involved in a number of career development opportunities. Allan McDougall Solicitors have opened their doors to our students offering a unique insight into the firm, giving the students an opportunity to meet their solicitors as well as taking part in a number of careers events. These opportunities give hope to a student that becoming a solicitor is achievable, which is simply priceless."
Holy Rood High School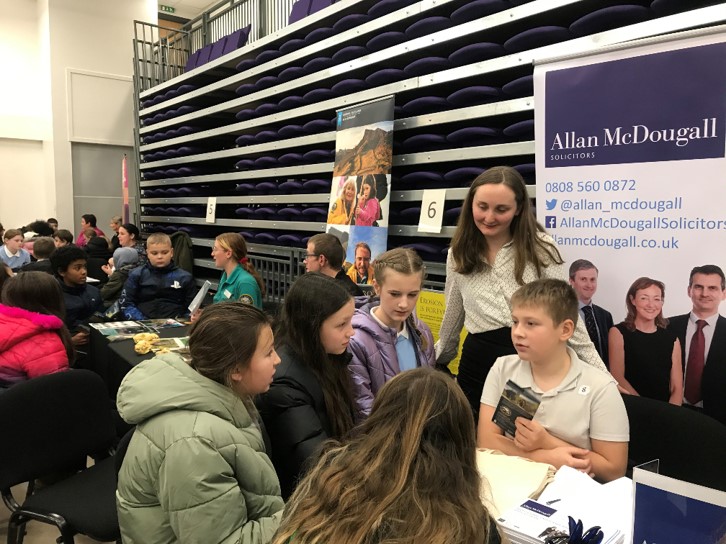 We provide a monthly financial donation to Holy Rood High School in Edinburgh, which it uses to fund activities of its own choice. So far our financial support has been used for various purposes, including to enable the school to allow pupils to take part in the UK Mathematics Trust's Junior Mathematics Challenge; mark the European Day of Languages with an interclass Pétanque tournament and a poster competition to promote language learning; and buy new strips for the football teams as well as new athletics vests.
Our team has also participated in events at the school, including judging the school's Youth and Philanthropy Initiative Scotland final and taking part in a Developing Young Workforce Day, a "Think Ahead" P7 transition to S1 event, which some 200 pupils from six primary schools attended. We provided insight into our firm and legal careers, linking to how school subjects and extra-curricular events can lead to positive destinations in higher or further education and employment.
Joan Daly, Head Teacher, Holy Rood High School, said: "We are extremely grateful for the sponsorship offered to us by Allan McDougall Solicitors. This year, this enabled us to provide our school Netball Team with strips so that they can perform competitively across the city and beyond. We have also been able to provide new aprons for our pupils studying in the Food and Textile Technology and undertaking courses in Hospitality and Practical Cookery. In Modern Languages, pupils celebrated European Day of Languages and learned how to play pétanque, the winning team were presented with their own set of boules. This additional funding enables us to offer additional initiatives, ensuring an equitable approach and allowing pupils to feel included and fully involved in the life of the school."
Scottish Disability Sport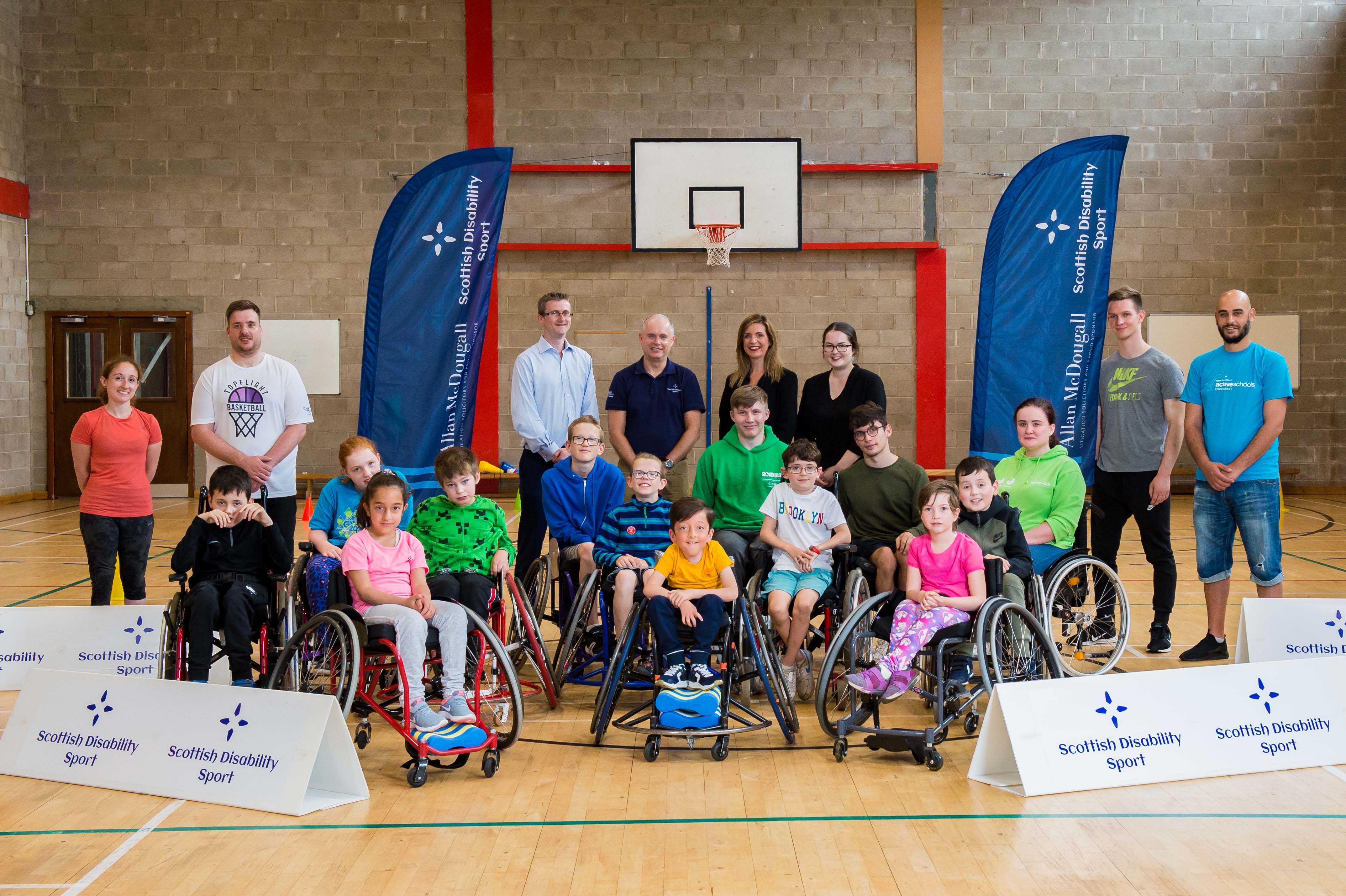 Our five-figure financial contribution to Scottish Disability Sport helped fund the organisation's national events programme, including a series of national swimming championships that were held in Glasgow's Tollcross International Swimming Centre as well as national athletics championships that took place at Grangemouth Stadium. Our team members attended the events to assist and to present medals, witnessing first-hand the positive impact on the lives of young people of being able to compete at national level in high quality sports venues, not least both their physical and mental wellbeing.
Mark Gaffney, Opportunities and Events Manager, Scottish Disability Sport, said: "A huge thanks to Allan McDougall Solicitors for their considerable support over the last three years. It has been a pleasure having the staff from the firm at our events, and they have always been extremely helpful. Allan McDougall Solicitors' support has allowed us to maintain competitive opportunities and engagement events for young people with disabilities. Their excellent support of our organisation's events calendar goes a long way to ensuring our participants have access to national-level competition at excellent venues such as Tollcross International Swimming Centre."
Other community initiatives
Over the years the firm and its team members have also supported many other, varied charitable organisations, including most recently Leith Food Project, a food bank; the trade union-organised Great May Day Cabaret at Òran Mór in Glasgow; Fisherrow Harbour Festival, a community event in Musselburgh; Triworks Edinburgh, a triathlon club to whose members we offer special rates; Spirit Aid, a Glasgow-based humanitarian relief organisation dedicated to alleviating the suffering of children and young people; the Macmillan World's Biggest Coffee Morning; Marie Curie's Blooming Great Tea Party; the Bicycle Film Festival; and Radio Forth Cash for Kids.
Allan McDougall
With you every step of the way.