Sean White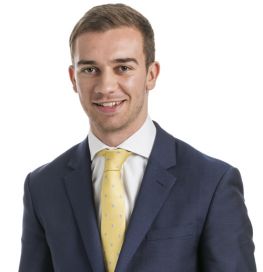 Sean is an established member of Allan McDougall Solicitors' personal injury team and has also developed a wide-ranging civil litigation practice within the firm. He has been responsible for overseeing a spectrum of reparation cases. In addition to handling compensation claims arising from clinical negligence, workplace accidents, occupiers' liability, road traffic accidents and occupational disease, he has handled commercial and more general litigation cases, including, for example, interdict proceedings and judicial reviews.
Sean is experienced in litigating in the Sheriff Court and Court of Session and has regularly represented clients in the All Scotland Sheriff Personal Injury Court and the Sheriff Ordinary Court in Edinburgh, having also appeared in the Sheriff Appeal Court. He also carries out work on behalf of other law firms that are based outside Edinburgh, assisting them with any Edinburgh Sheriff Court or Court of Session actions they may be involved with.
Sean first joined the firm as an office assistant while studying at University before completing his training with us and subsequently gaining promotion to Associate in 2020.
Representative experience
Sean regularly delivers great results for our clients. Much of this comes following negotiation, but also following successes in Court.
He was successful when instructed in one of the first ever Court of Session Appeal cases to be heard remotely during the Covid-19 pandemic. This was in connection with a claim for damages brought by homeowners and tenants who claim to have sustained injury as a result of their properties having been built on contaminated land. The original decision - to dismiss the actions on the basis that the updating of the written pleadings had been brought out of time – was found to have been misdirected and was successfully overturned, allowing the cases to proceed.
Sean was also successful when instructed in the first ever Commercial Proof to be heard remotely in the Court of Session. The action raised by our clients concerned losses sustained at their strawberry farm after the polythene they had ordered had broken up and allowed weeds to grow, damaging the crop. An evidential hearing was required to determine whether or not certain terms and conditions had been incorporated into the contract of sale, which would have restricted any liability for the Defender. The assumption that those terms were incorporated was successfully rebutted following an evidential hearing.
Sean has regularly appeared against members of the Scottish Bar, having succeeded at Legal Debate against counsel, and at an Evidential Hearing against a member of Queen's Counsel.
Sean was also instructed in the first Clinical Negligence case to run to an evidential hearing in the All Scotland Personal Injury Court.
Education
LLB (Hons), University of Edinburgh, 2010-2014
DipLP Diploma in Legal Practice, University of Edinburgh, 2014-15
Admissions, Memberships and Accreditations
Admission to the Roll of Solicitors, 2017
Member of the Association of Personal Injury Lawyers (APIL) since 2019
Outside Work
Sean enjoys spending time with his family, participating in and watching a wide range of sports, keeping fit and has a particular interest in exploring outdoors, at home and abroad.
He has also been involved with the firm's charity fundraising activities which have seen him abseiling from the Forth Rail Bridge and participating in the Edinburgh Marathon Festival.
Articles by Sean White
- Success in first ever virtual commercial proof at Court of Session
- The Virtual Courtroom
- Cycling accidents - common pitfalls and how to avoid them
- Case comment: sanction for counsel
- Need legal advice about an injury? Come to our free Penicuik clinic on 15 June
- New Bill set to improve access to justice
- Potholes, local authorities' liability and what we can do