Stephen Irvine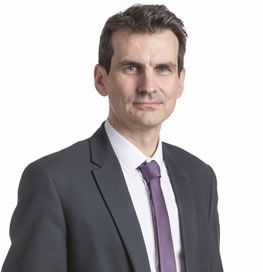 Stephen has considerable experience in many types of litigation but has spent the vast majority of his 25-year career specialising in pursuing claims for compensation for people who have suffered injury. He has extensive experience in all types of personal injury claim including accidents at work, road traffic accidents, slips and trips and claims for asbestos-related conditions. Like everyone at Allan McDougall Solicitors, when Stephen says he puts his clients first, he means it. Always approachable, he believes passionately in making sure clients know they are being listened to rather than merely "processed".
Prior to joining Allan McDougall Solicitors in 2019, Stephen had spent over 20 years working for another well-respected Edinburgh law firm acting primarily for people pursuing personal injury compensation claims.
Stephen has provided training seminars for other lawyers on various issues of personal injury law and court procedures.
Representative experience
Stephen acts for trade union members and other clients in pursuing all types of personal injury compensation claim. He has especially strong experience in claims for accidents at work and other work-related conditions. He represents clients in both the Court of Session and Sheriff Court.
Stephen has particular expertise in claims for asbestos-related conditions, some of which can be severe and can have devastating consequences for workers and their families. Stephen's sympathetic approach to these claims is highly valued by clients and their families. Stephen is regularly thanked by families for his understanding and support which has helped them cope with very difficult times.
Education
LLB (Hons), University of Aberdeen, 1990-1994
Diploma in Legal Practice, University of Aberdeen, 1995
Admissions, Memberships and Accreditations
Law Society of Scotland, 1997
Association of Personal Injury Lawyers, 2002 - present
Outside Work
Outside work Stephen is a keen but inept golfer and tennis player. He has a particular passion for music and enjoys playing the piano and guitar, at least for the brief periods before his children start complaining.
Articles by Stephen Irvine
- Supreme Court decision recognised as authoritative re-statement of the law of vicarious liability
- Bereavement damages
- Fine for building firm highlights importance of regulations
- Justice following the death of a relative
- Think it's all your own fault? Think again!
- Vicarious liability: Is an employer always liable for an employee's actions or inactions?
- Asbestos compensation - Scotland is different
- Do I just accept an injury at work as my own bad luck?