Eilidh Campbell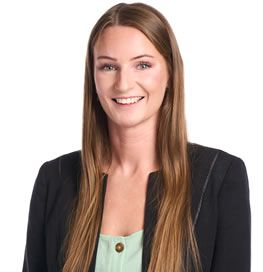 Eilidh is a Senior Solicitor within our family law team, having joined Allan McDougall Solicitors in May 2023. Eilidh has extensive knowledge in a wide range of family-related matters, including divorce, separation, cohabitation claims, spousal and child aliment, child-related disputes, adoption and more. She has particular expertise in handling matters such as child contact, residence and relocation, both in and out of court, having dealt with a multitude of issues surrounding children. These can often be the most contentious and challenging disputes to resolve.
Eilidh began her legal career training at a busy court firm in Edinburgh where she gained experience in a variety of family, child and criminal defence matters. After qualifying in 2019, she continued practising within the same firm and later chose to specialise in family law. She was promoted to Senior Solicitor in 2021, just 2 years post-qualification.
Eilidh approaches each case with a high level of sensitivity and professionalism to ensure that her clients feel supported and reassured during what can inevitably be a very difficult time in their lives. She recognises the level of stress and emotion that can be involved in family-related matters and aims to alleviate any apprehension that may be felt by her clients. She provides a diligent, compassionate and empathetic service and is committed to achieving the best possible outcome, whatever the circumstances may be.
That being said, not all family matters are contentious or involve disputes. Eilidh also assists those simply wishing to regulate matters pre or post-marriage for peace of mind, or legally secure a family unit, for example by adopting a step-child. Regardless of the nature of the case, her aim is to make the process as straightforward and stress-free as possible for her clients.
Representative Experience
Eilidh has extensive experience in a range of contentious and non-contentious family law matters and has advised clients on a variety of issues and complex areas of law. She has dealt with various financial and child-related disputes which have arisen between families and separated couples, ranging from straightforward cases to rather obscure cases requiring a more creative approach in order to reach a resolution. She has gained insight into a whole host of issues which can arise between parties and the various factors which can lead to conflict. She has represented clients from all different angles, both in negotiating settlements extrajudicially, and in court. While Eilidh has litigated a number of cases to a conclusion, the majority of her cases have successfully been resolved through effective negotiation.
Though she now focuses on other areas, she has also previously acted on behalf of clients in Children's Hearings, Juvenile Referrals and Permanence proceedings in relation to serious child protection matters. She is therefore well versed in representing both vulnerable adults and children in a highly sensitive set of circumstances. She has also helped navigate clients through unprecedented circumstances during the covid-19 lockdown which saw families all over the world being separated from one another. Eilidh managed to assist a great number of families in being reunited during that difficult time, including a first-time mother and her newborn baby.
Education
LL.B Law (Hons), The University of Glasgow, 2015
Diploma in Professional Legal Practice, The University of Glasgow, 2016
Admissions, Memberships and Accreditations
Law Society of Scotland (2017)
Outside Work
Eilidh has a keen interest in musical theatre, having been performing from a very early age. She is currently a member of an amateur society in Edinburgh and takes part in their annual shows. Eilidh is also very keen on fitness, attending exercise classes on an almost daily basis.
Articles by Eilidh Campbell
- Family holidays abroad post-separation