Triple shortlisting in The Herald Law Awards of Scotland 2023
Allan McDougall Solicitors has been named as a finalist in three award categories in The Herald Law Awards of Scotland 2023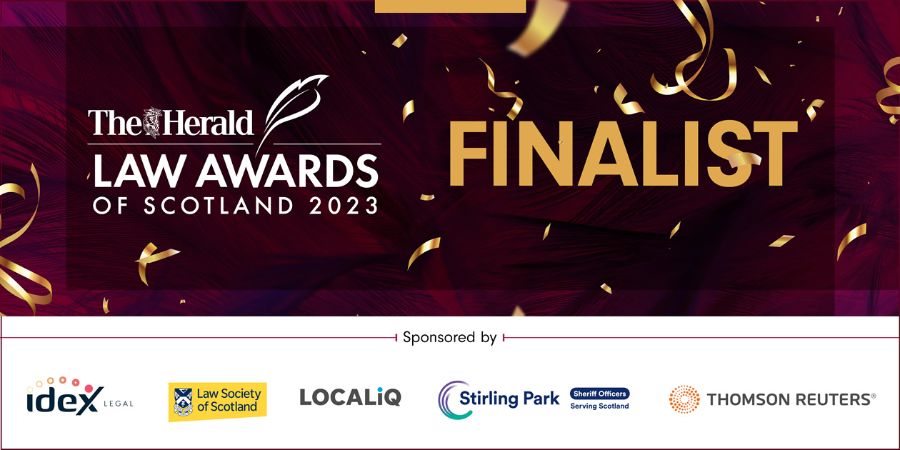 Allan McDougall Solicitors has been named as a finalist in three award categories in The Herald Law Awards of Scotland 2023: Family and Child Law Team of the Year, Litigation Team of the Year and Corporate Social Responsibility Award.
Julie Harris, a partner with Allan McDougall Solicitors, commented: "We're thrilled to have been shortlisted in each of these very competitive award categories. Many congratulations to our family law team on being shortlisted for the new Family and Child Law Team of the Year award and to our personal injury team on being a finalist in the Litigation Team of the Year category.
Our family law team has punched well above its weight in the past year, handling a large volume of often complex cases. Likewise, our personal injury team has continued to excel, achieving outstanding results for clients time after time.
We would also like to highlight and thank our three amazing corporate social responsibility partners in the last year: Scottish Disability Sport, Holy Rood High School and the Lawscot Foundation. Being shortlisted for the Corporate Social Responsibility Award is very welcome recognition of the success of our collaborative initiatives to help support young people to learn and achieve."
Judged by an independent panel consisting of senior legal industry experts, The Herald Law Awards of Scotland recognise the country's leading lawyers, law firms, in-house teams, and legal sector suppliers. The awards will be presented at a formal awards dinner on the evening of Wednesday, November 15 at the DoubleTree Hilton in Glasgow.
Contact us
Call free on 0808 560 0872
Arrange a callback by using our enquiry form