A quartet of new starts for Allan McDougall Solicitors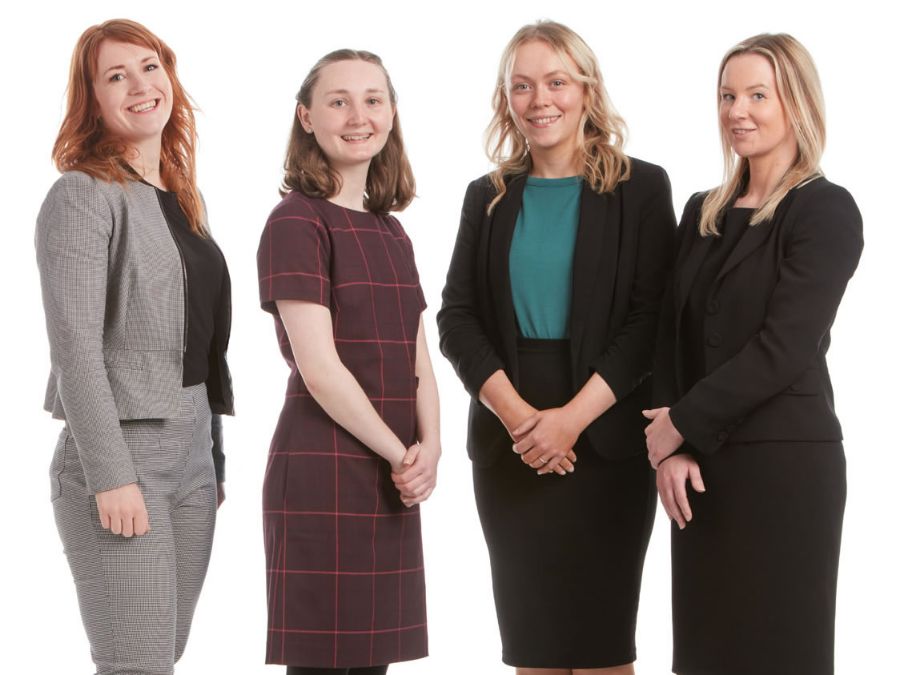 Pictured from left to right are Alice Bowman, Heather Webster, Michelle Wilson and Alex Robertson
During the course of the covid-19 pandemic, Allan McDougall Solicitors was delighted to strengthen both our personal injury and employment law teams.
Our personal injury team welcomed Alex Robertson, associate, Michelle Wilson, paralegal and Heather Webster, trainee solicitor. Alex is an experienced solicitor with an outstanding track record, and all three have settled well into the team, already receiving excellent feedback from our clients.
Our employment law team has been augmented with the hire of Alice Bowman, solicitor. Experienced in contentious litigation and mediation, Alice provides advice to trade union officials and their members on all aspects of employment law. She recognises that strong legal representation in employment disputes is instrumental in robust industrial organising and building employees' power.
After more than two years of working remotely most of the time, our new recruits got together recently to have their photos taken for our website. We took the opportunity to ask them what they've liked most about their time with the firm so far.
Alex Robertson, an associate in the firm's personal injury law team, said:
"It has been a great honour for me to join the exemplary personal injury team at Allan McDougall Solicitors. The firm has an excellent reputation in representing clients throughout Scotland in all aspects of personal injury cases. I hope to be able to strengthen the team with my skill set and knowledge and continue to achieve the best possible outcomes for clients."
Alice Bowman, a solicitor in the firm's employment law team since March 2021, commented:
"I am immensely pleased to continue to represent trade union members in employment disputes while working at Allan McDougall Solicitors. The past decades have seen industrial and collective rights chipped away at, leaving mostly individual rights upon which we can rely to seek justice. As the old trade union saying goes "a victory for one is a victory for all," and, in securing justice for individual members, I hope to empower workers on the ground in challenging for better conditions. As you can probably tell, this work is more than just a job for me."
Michelle Wilson, a paralegal in the firm's personal injury law team, added:
"For me, choosing Allan McDougall Solicitors was all about the individual service and personal touch that the firm provides for each and every client. Throughout my time here I have been involved in a variety of personal injury claims ranging from road traffic accidents to hand arm vibration syndrome, and each time the approach to the situation has been tailored to benefit the client.
Having the opportunity to work with highly experienced solicitors I have been exposed to all aspects of a claim both pre-litigation and once an action has been raised. The best part thus far has been getting involved in the progress of a claim from initially speaking with the client, through negotiations, to settlement."
Heather Webster, a trainee with the firm, concluded:
"The best part about working at Allan McDougall Solicitors is definitely the people and office culture. As a trainee, I am navigating a lot of new situations and need more support than the average employee. Everyone at the firm is so approachable that I can easily ask any questions.
Something that has surprised me about working at Allan McDougall Solicitors is the wide variety of cases. I am assisting in many different personal injury cases from accidents at work to industrial diseases to clinical negligence claims."
Contact us
Call free on 0808 560 0872
Arrange a callback by using our enquiry form