Our Founder: The Allan McDougall Story
Introduction
Allan McDougall Solicitors' heritage dates back to the beginning of the last century.
When Edward McLeish, the 76 year old grandson of the firm's founder Allan McDougall, contacted us recently to discuss his grandfather's story, we decided to piece together and document what we know about him and his life.
While sometimes patchy, the story we have been able to assemble is a fascinating one.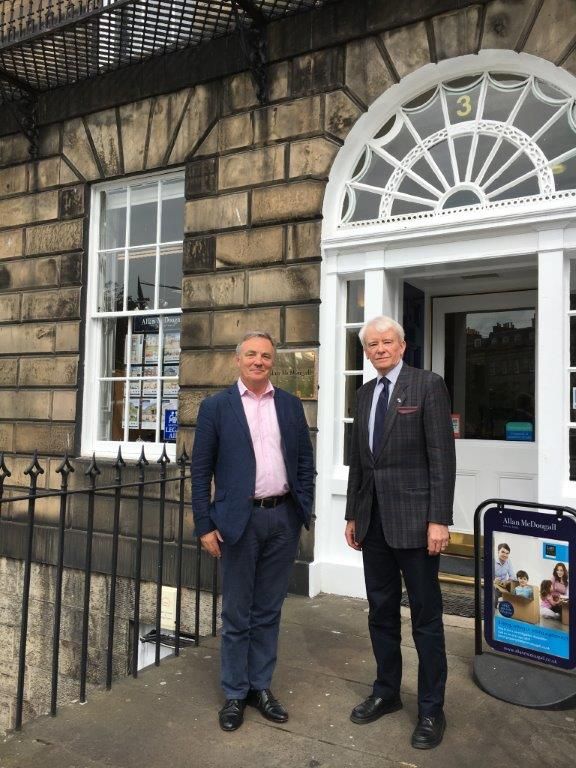 Edward McLeish (right) with the firm's David Harris on a visit to Allan McDougall Solicitors, June 2017
Family life
Born in Jedburgh in 1870, Richard Allan McDougall was the son of John McDougall, a Glasgow man who had moved to become Sheriff Substitute Depute in the town. His mother was Margaret Allan. He had four brothers, William, John, Charles and Edward, and two sisters, Jessie and Ella.
Allan married Alice Maud May Cogswell in Kensington, London, in 1897.
Early working life
After training as a Law Apprentice, Allan was admitted a solicitor in 1901, aged 31. He was living in Glasgow at the time but moved to practice in Hawick for six years. He is thought to have been Election Agent for Sir Arthur Conan Doyle in a by-election.
In 1907 the family moved to Glasgow and for the next 12 years Allan honed his legal skills, especially in commercial work with a number of firms. These were hard times for many but long-lasting contacts were to be established.
In 1919, Allan joined the firm W G Leechman. The latter, a well known Town Councillor with similar feelings as Allan to support the underdog at law, was to be an ideal associate in these turbulent times in the West of Scotland. The partners were sympathetic to the industrial and domestic strife of the city in 1919 and Walter Leechman acted for John Gallaher at the trial of the insurrectionists.
In 1920, Allan and family moved to Edinburgh to open a practice with Leechman. The firm attracted business from both cities, with Allan specialising in commercial work from the growing and powerful Transport and General Workers' Union.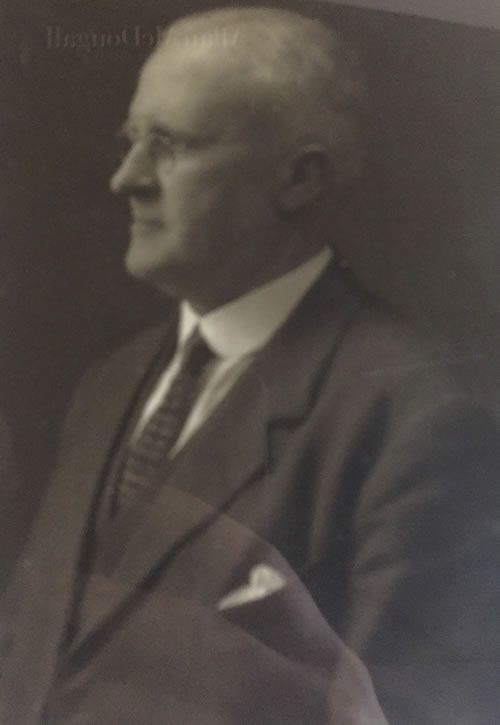 Allan McDougall
Founding a legal practice
By 1929, both partners had large portfolios of clients leading to ground-breaking cases being argued, e.g. Mullen v A G Barr and Donoghue v Stevenson, the landmark Snail in the Bottle case that forms the basis of the modern law of negligence.
Allan McDougall started his own firm in 1929, a year which saw him appointed Crown Agent for Scotland, a political post carrying considerable kudos. In that year he was also appointed Solicitor to the Supreme Court.
With an ever-increasing workload, Allan was fortunate to have the support of his elder daughter Rhoda, a fully qualified Law Agent, who excelled in divorce work and all non-court procedures. She ran the firm, based at 24 Castle Street, with outstanding efficiency. In the World War II years, the team was joined by Miss Jack, whose superb efficiency was to make Allan McDougall the envy of the Edinburgh legal scene. She lived a long life and died in the Scottish Borders village of Darnick in 2019.
Jack George, who qualified in 1934, worked for Allan McDougall prior to the war. On his return from the Far East he purchased the firm in 1946, with Rhoda being retained as a partner for a short time, prior to her marriage and retirement. Allan McDougall died later that year, aged 76. Rhoda lived in Edinburgh until 1954, when she moved to England. Music, bridge and reading filled her retirement, and she died in 1996.
Jack George built up the business from 1946 onwards, retaining the Allan McDougall name. With the firm thriving, he took on Bill Laird as partner in 1961 and together they expanded its family law practice. The firm moved from Castle Street to Alva Street, then Queen Street and finally in 1988 to Coates Crescent. In 2000 it became Allan McDougall Solicitors.
Prominent legal minds
Having become a training ground for advocacy, Allan McDougall's firm has seen some of Scotland's foremost lawyers pass through it during its history. Lord (Alan) Roger of Earlesferry, Supreme Court judge and recognised as one of the finest legal minds of recent decades was one of the firm's trainees. Sheriff Bill Palmer, Sheriff Mark Sischy, Lord (Donald) Mackay of Drumadoon, Sheriff Principal Mhairi Stephen, and Sheriff William (Bill) Christie were all partners in the firm. In addition, Pat Wheatley, a former partner, started his own criminal practice. Keith Anderson, another former trainee, has gone on to found his own legal services firm, Vialex.
Enduring values
Immensely proud to be a firm with such a rich history, we remain true to our founder's values: litigation pursued to a very high standard, with a culture of supporting the underdog, and delivering outstanding service and results. Our strong trade union connections continue to this day, with the firm acting for the members of several unions, including Unite, the UK's largest trade union.
Edinburgh
October 2019
Contact us
Call free on 0808 560 0872
Arrange a callback by using our enquiry form