Our Founder: The Allan McDougall Story
Introduction
Allan McDougall Solicitors' heritage dates back over 90 years to the beginning of the last century.
When Edward McLeish, the 76 year old grandson of the firm's founder Allan McDougall, contacted us recently to discuss his grandfather's story, we decided to piece together and document what we know about him and his life.
While sometimes patchy, the story we have been able to assemble is a fascinating one.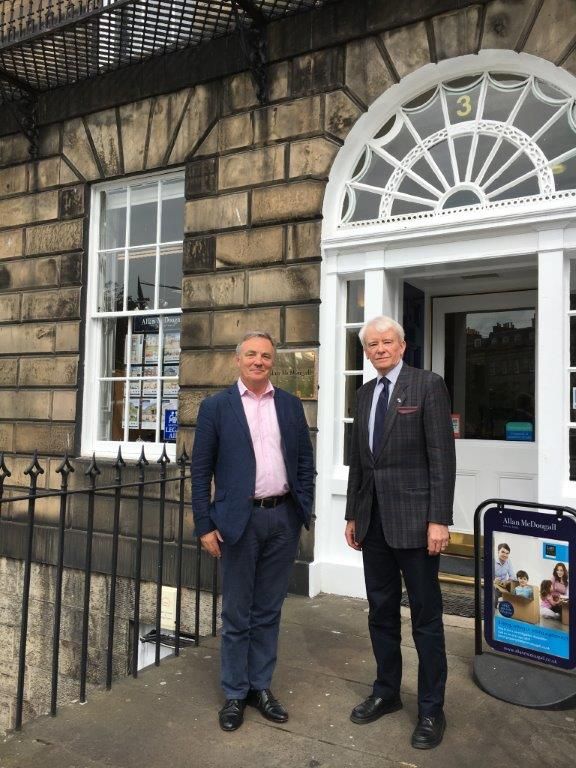 Edward McLeish (right) with the firm's David Harris on a visit to Allan McDougall Solicitors, June 2017
Family life
Born in Jedburgh in 1870, Richard Allan McDougall was the son of John McDougall (Sheriff Substitute Depute in the town) and Margaret Allan.
He had four brothers, William, John, Charles and Edward, and two sisters, Jessie and Ella.
Allan married Alice Maud May Cogswell in Kensington, London, in 1897.
Early working life
Allan was living in Scotland by 1901, when he trained as a Law Apprentice in Edinburgh, residing in Frederick Street. He worked in Hawick immediately after he qualified for about two years, and appears to have been the Election Agent for the Sherlock Holmes author Arthur Conan Doyle.

In 1903 Allan matriculated in Arts at Edinburgh University, and thereafter seems to have spent about 19 years in the West of Scotland doing a variety of jobs in Glasgow.
By 1919 he is linked to the law firm Leechman & Co, in which he became a partner in 1921. He is thought to have been involved in the landmark Snail in the Bottle (Donoghue v Stevenson) case, the basis of the modern law of negligence.
In 1926 there is a first mention of McDougall and Leechman, with offices both in Glasgow and Edinburgh, but this firm was dissolved in 1929.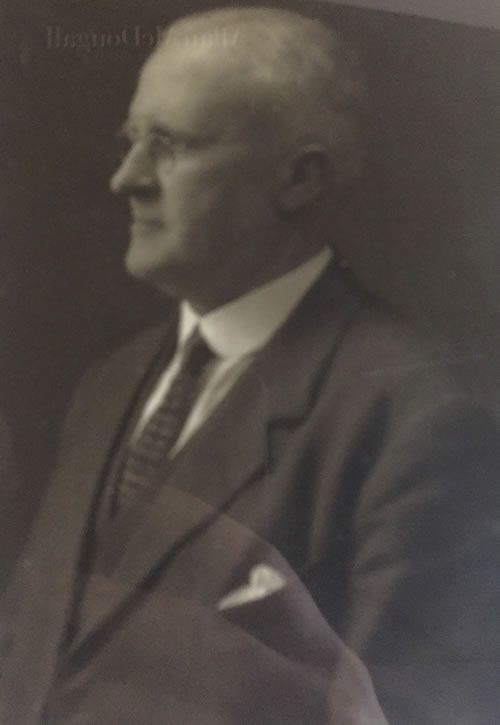 Allan McDougall
Founding a legal practice
About 1928 Allan established his own firm, Allan McDougall & Co.
Around that time he became the Crown Agent, a political appointment. He seems to have been friendly with Baron Wheatley, the prominent Scottish Labour politician and judge.
Allan was rumored to have bailed the then trade union official Emanuel (Manny) Shinwell when he was jailed for his part in the 1919 workers' revolt, which saw a young Winston Churchill send British army tanks into Glasgow's George Square to avert a Scottish revolution. Shinwell went on to become one of the Independent Labour Party's first MPs in the 1922 election, and later was a key minister in Clement Attlee's post-war Labour government.
The firm also seems to have had a connection with the Transport and General Workers' Union pre-dating World War II.
During World War II Allan's daughter Rhoda McDougall ran the business most efficiently from offices at 24 Castle Street. She had a reputation as something of a powerhouse. Rhoda lived in India Street at this time, as did Allan, and she used to deliver the papers round Heriot Row to the various advocates the firm instructed.
She hired a young Joanna Marshall (the redoubtable Miss Jack), who became an immensely hard-working, loyal employee with superb attention to detail. Indeed the Edinburgh legal scene found it difficult to comprehend how much work was completed by a firm of its size.
Meanwhile, a certain Jack George, who qualified in 1934, seems likely to have worked for Allan McDougall before the war. He was in the Far East during the war, returning in 1946, when the business was sold to him. Allan McDougall died later that year, aged 76.
Jack George built up the business from 1946 onwards, retaining the Allan McDougall name. With the firm thriving, he took on Bill Laird as a partner in 1961 and together they expanded its family law practice. The firm moved from Castle Street to Alva Street, then Queen Street and finally in 1988 to Coates Crescent. In 2000 it became Allan McDougall Solicitors.
The formidable Rhoda, who died in 1996, lived in Edinburgh until 1954, when she moved to England. Edward recounts that, even in her later years, few months passed without his aunt making reference to Miss Jack, who is still living in the Scottish Borders village of Darnick.
Prominent legal minds
Having become a training ground for advocacy, Allan McDougall's firm has seen some of Scotland's foremost lawyers pass through it during its history. Lord (Alan) Roger of Earlesferry, Supreme Court judge and recognised as one of the finest legal minds of recent decades was one of the firm's trainees. Sheriff Bill Palmer, Sheriff Mark Sischy, Lord (Donald) Mackay of Drumadoon, Sheriff Principal Mhairi Stephen, and Sheriff William (Bill) Christie were all partners in the firm. In addition, Pat Wheatley, a former partner, started his own criminal practice. Keith Anderson, another former trainee, has gone on to found his own legal services firm, Vialex.
Enduring values
Immensely proud to be a firm with such a rich history, we remain true to our founder's values: litigation pursued to a very high standard, with a culture of supporting the underdog, and delivering outstanding service and results. Our strong trade union connections continue to this day, with the firm acting for UK's largest trade union Unite and its members.
Edinburgh
October 2017